Rambler American Restoration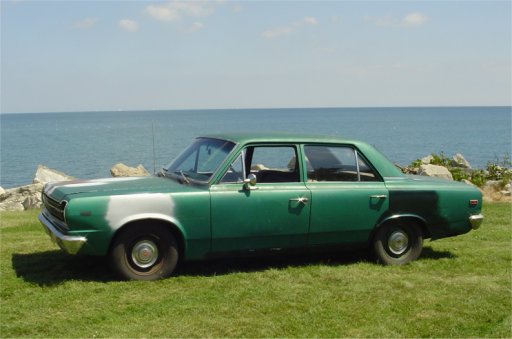 My American at the 50th Anniversary of AMC meet in Kenosha, WI.
It just goes to show you that there are people who appreciate a nice beater. On Saturday September 28th, 2002, I won my second award with this car. I got an Honorable Mention at the 2nd Annual Edmund Anderson Midwest Regional AMCRC Meet at Carillon Historical Park in Dayton, OH.
This section details the jobs I've done in restoring (actually, the term is restifying since I'm not going back to 100% stock) my 1968 Rambler American. As you can tell from the picture above, I have my work cut out for me.
Body
Fixing my leaky windshield:
Parts That Need Repaired or Replaced (updated September 2, 2002)
Part 1 - Rust, mice, and RTV (added September 30, 2001)
Part 2 - Dash removal (added October 7, 2001)
Part 3 - Removing Body Parts (added October 28, 2001)
Part 4 - Rust and collision repair (added January 27, 2002)
Part 5 - Cutting out the rusty cowl sections (added February 9, 2002)
Part 6 - Welding in the replacement panels (added March 17, 2002)
Part 7 - The welding is finished! (added June 3, 2002)
Part 8 - The [almost] finished repair (added June 29, 2002)
Part 9 - Putting it all back together (added August 10, 2002)
Part 10 - Assembly Home Stretch (updated October 2, 2002)
Driver's Side Quarter & Rocker Panels:
Part 1 - Prepping The Replacement Quarter Panel (added April 14, 2003)
Part 2 - I'm a gas welding fool! (added April 25, 2003)
Part 3 - Rocker rust and another mouse nest (added August 18, 2003)
Part 4 - Rocker Rust -- What I'm Replacing (added August 22, 2003)
Part 5 - Rocker Rust -- The Surgery Begins (added August 23, 2003)
Part 6 - Rocker Rust -- Finishing Up The Surgery (added August 29, 2003)
Part 7 - Rocker Rust -- Fitting The New Rocker Cover (added Nov. 6, 2003)
Part 8 - Rocker Rust -- Outer Rocker Panel, Take 2 (added Dec 5, 2003)
Part 9 - Rocker Rust -- Let The Assembly Begin (added Jan 3, 2004)
Part 10 - Rocker Rust -- Rocker Cover Final Fitting (added Feb 15, 2004)
Part 11 - Rocker Rust -- Happy Monday! (added Feb 16, 2004)
Part 12 - Rocker Rust -- Drain Thingy (added March 15, 2004)
Part 13 - Rocker Rust -- Installing The Rocker Cover (added April 25, 2004)
Part 14 - Rocker Rust -- Grinding and Welding (added May 1, 2004)
Part 15 - Rocker Rust -- Nice Brass! (added May 8, 2004)
Part 16 - Rocker Rust -- Filler (added May 15, 2004)
Part 17 - Rocker Rust -- Getting Ready For Paint (added May 23, 2004)
Part 18 - Rocker Rust -- Seeing Green (added May 28, 2004)
Part 19 - Rocker Rust -- One Step Forward, Two Steps Back (added June 22, 2004)
Passenger Side Quarter & Rocker Panels:
Wagon Part 1 - Figuring out what to replace (added November 13, 2005)
Wagon Part 2 - Removing Rusty Parts (added November 20, 2005)
Wagon Part 3 - Putting It Back Together Part 1 (added February 25, 2006)
Wagon Part 4 - Putting It Back Together Part 2 (added March 25, 2006)
Wagon Part 5 - Putting It Back Together Part 3 (added April 1, 2006)
Wagon Part 6 - Putting It Back Together Part 4 (added April 2, 2006)
Wagon Part 7 - Putting It Back Together Part 5 (added April 20, 2006)
Wagon Part 8 - Putting It Back Together Part 6 (added April 23, 2006)
Wagon Part 9 - Putting It Back Together Part 7 (added April 29, 2006)
Wagon Part 10 - Putting It Back Together Part 8 (added March 26, 2009)
Wagon Part 11 - Putting It Back Together Part 9 (added April 5, 2009)
Wagon Part 12 - Putting It Back Together Part 10 (added April 18, 2009)
Wagon Part 13 - Matt gets his sand on (added July 5, 2009)
Wagon Part 14 - You guessed it, more sanding (added July 5, 2009)
Wagon Part 15 - Still, more sanding (added September 17, 2009)
Wagon Part 16 - Heading Off For Paint (added May 8, 2010)
Wagon Part 17 - Finally Back From Paint (added July 28, 2010)
Other rusty stuff:
Trunk Floor (added January 25, 2003)
Whatnot:
1966 - 1969 American Floor and Uniside (added September 8, 2004)
Brakes
Parking Brake Cable R & R
Replacing The Parking Brake Lever Handle
Replacing The Parking Brake Lever Handle - Take 2 (updated Dec 29, 2003)
Electrical
Retrofitting a Delco 10si Alternator (updated August 4, 2004)
68 Rambler American main wiring (78kb GIF)
68 Electric Wiper wiring
1967 - 1969 Turn Signal Switch Replacement (added June 7, 2007)
Front Turn Signal Bulb Replacement (added March 27, 2010)
Engine
AMC Inline 6 Head Bolt Modification
Replacing An Oil Pump In A `68 American
Carburetor Rebuild Notes - Holley Model 1920
Upgrading to Electronic Ignition (Pertronix Ignitor installation)
Painting an AMC Inline Six (updated October 13, 2005)
Fixing Six Cylinder Rough Idle And Surging (updated November 20, 2004)
New vacuum and fuel lines (added November 20, 2004)

Holley Model 1931 Carburetor Rebuild
Introduction & Removal (added March 2, 2010)
Fuel Bowl Disassembly (added March 2, 2010)
Metering System Disassembly (added March 2, 2010)
Choke & Throttle Disassembly (added March 2, 2010)
Cleaning & Inspection (added March 2, 2010)
Throttle & Choke Valve Assembly (added March 7, 2010)
Choke Thermostat & Idle Screws Assembly (added March 7, 2010)
Accelerator Pump, Metering Block, & Float Assembly (added March 7, 2010)
Fuel Mixture & Bowl Vent Assembly (added March 7, 2010)

Tuning a 199, 232, or 258 six with points (added August 29, 2010)

Carter Dual Action Fuel Pump Rebuild
Introduction & Disassembly (added September 15, 2010)
Disassembly Part 2 (added September 25, 2010)
Assembly Part 1 (added September 25, 2010)
Assembly Part 2 (added December 5, 2010)
Assembly Part 3 (added December 5, 2010)
Assembly Part 4 (added December 5, 2010)
Assembly Part 5 (added December 5, 2010)
Transmission
Unexpected rebuild (added April 18, 2010)

Steering/Suspension
Power Steering Conversion (post `66 vehicles)
Saginaw Power Steering Pump Rebuild
Interior
Heater Box Rebuild
Part 1 - Heater Box Disassembly (added March 25, 2008)
Part 2 - Blower Motor Disassembly (added March 27, 2008)
Part 3 - Newly Available Reproduction Foam Kit (updated May 29, 2008)
Part 4 - Installing the air door foam (added May 17, 2008)
Part 5 - Blower Motor Assembly (added May 27, 2008)
Part 6 - Final Foam Installation (added May 29, 2008)
Miscellaneous
Cleaning Hoses
Vacuum Wiper Motor Re-Assembly (updated September 1, 2009)
1967 American Wagon Spare Tire & Jack Details (added April 20, 2010)
Last Updated 12/05/10 04:00:39 PM