Rambler American Restoration
Driver's Side Quarter & Rocker Panels
Part 12 - Rocker Rust -- Rocker Drain Thingy
Back to American Restoration Index
March 15, 2004
I took last Friday off of work to with the intention of getting a few things on my Ram taken care of early in the morning and having the rest of the day and part of Saturday to recreate the rear drain thingy found on the original rocker panel. As it turns out, the truck took much longer than expected on Friday and I had to put a radiator in it Saturday morning (which contributed to the time I had to spend on it Friday) but nonetheless, I did manage to get part of the fabrication done but I still have lots of clean up to do and I'll need to apply a seam sealer to this area to prevent rust.
What I needed to fabricate was basically a stepped area in the rocker cover that lines up with a notch in the inner rocker panel to allow water to drain from this area of the car. The stepped starts about 4 inches from the trailing end of the inner rocker panel and is about an inch wide.

The blue line in Figure A shows the profile of the stepped area.


Figure A - Rocker cover profile
To make this section, I started by making two cuts through the bottom flange and bottom of the cover where it kicks up behind the outer rocker panel to form an "L". The long part of the "L" should be bent so it slopes downwards to allow water to run out. The short side should be parallel to the bottom flange. The picture below shows this part cut and bent into the proper position.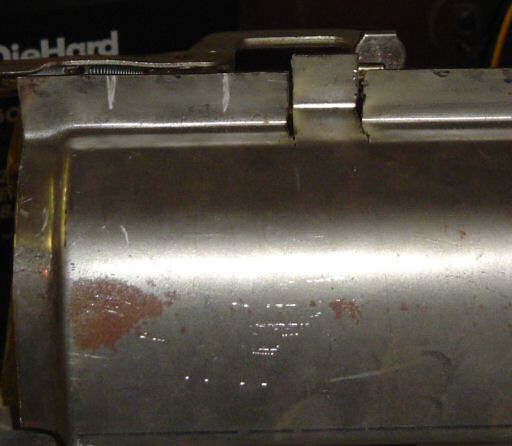 After I made the cuts, the next step was to cut some small filler triangles to form the sides of the stepped area. That part was a royal pain since the pieces were so small but the next picture shows what is looks like after they were welded in place and some grinding was done.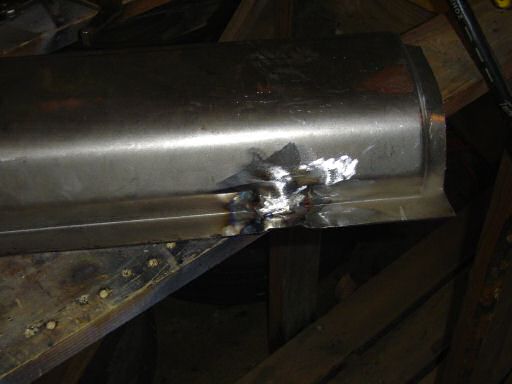 It looks better in this picture that in real life but what I need to do is grind along the sides of the stepped area but I ran out of time to do this on Friday. I'll be use my die grinder since the areas left to grind are too small for my angle grinder. I'll probably have to use a little filler along the sides but since you have to crawl under the car to see them, I'm not going to worry about making them perfect.
The last thing I did was notch the bottom of the stepped area. The notch is roughly 1/16" deep.
Up Next: Part 13 - Rocker Rust -- Installing The Rocker Cover
Last Updated 04/25/04 05:39:30 PM