Matt's Old Cars.com
Fiddling with Rambler's since 1995
1984 Dodge Ramcharger
January 20, 2011
Here's the latest addition to my stable: A 1984 Dodge Ramcharger 4x4.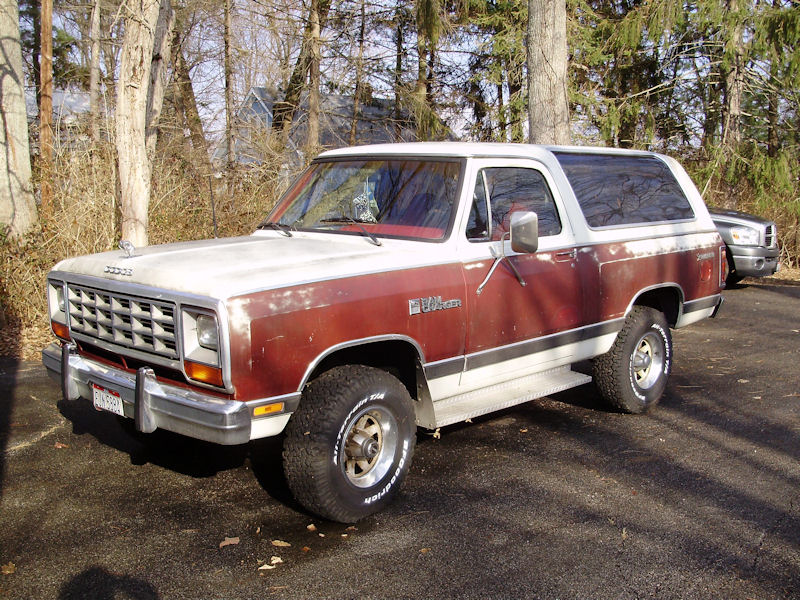 Here's the vital stats:
1984 Dodge Ramcharger 150 with Prospector package
Paint: White and Dark Red
Interior: Dark red cloth
Engine: 318 V8
Transmission: TorqueFlite 727 Automatic, column shift
Transfer case: New Process, part time 4 wheel drive.
A lift kit has been installed in the past.
Tires are 31" x 10.5" x 15"
Axles: Dana 44 front, Chrysler 9 1/4" rear
151,864 miles
General description:
Overall, the truck's in decent condition. It's originally an Arizona truck (it has been in Ohio for less than 10 years) and has no rust. The white paint on it has been redone for sure. The dark red may be original. The interior is in pretty good shape except for the door panels.
Mechanically, the truck is in very good condition except for the engine (rod knock and smokes). The plan for the engine is to install a 4" stroke crank, RHS "X" heads, a mild cam, and a 4bbl intake. This should just about triple the stock horsepower rating. This may sound impressive but keep in mind this is a smog era motor and it's hard to find a new 4 cylinder car with less power than this had originally. As long as I can do a 4 wheel peel out when the engine is done, I'll be happy.
I also get to have some fun with the under hood wiring. Being in Arizona most of its life didn't do the wiring much good and there have also been some ugly repairs done to it over the years.
Here are a couple more pictures I took of the truck: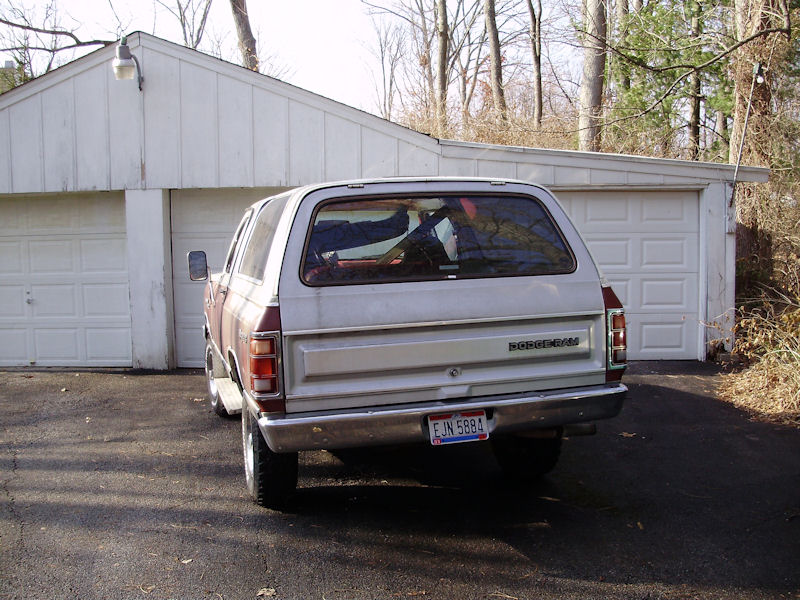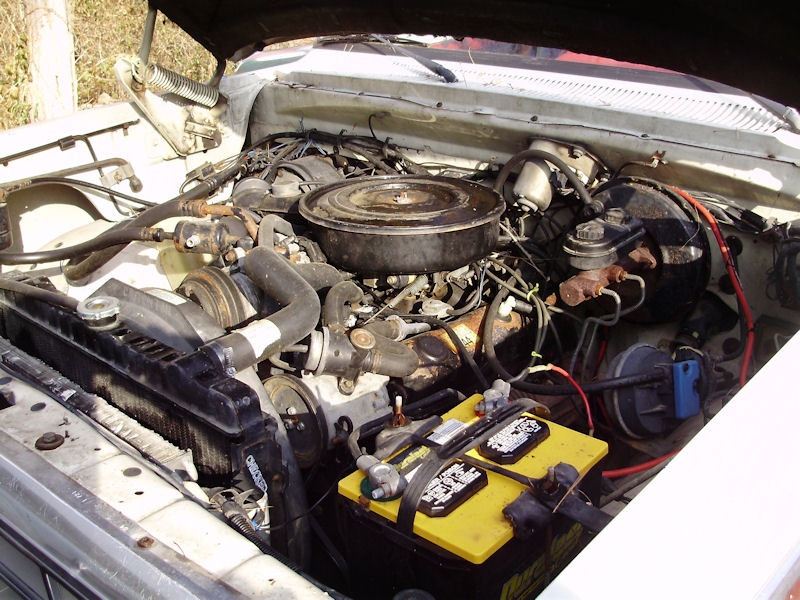 I've been working on this truck pretty regularly so far. Here is what I've done:
Removed the engine and tore it down. There was a rod bolt and nut in the oil pan, all of the rods were loose on the crank, and the cam was trashed. I've taken the block to the machine shop and ordered most of the new parts. Here are the highlights of the build list:
318 Stroker kit (turns a 318 with a .030" overbore into a 390).
Roller cam: .510" lift, 108 degree lobe angle, 218 degrees duration intake, 228 degrees exhaust
Indy/RHS LA "X" heads
Roller tip rockers
Port matched Edelbrock Performer intake
Carter Thermoquad carb, 850 CFM
I've also been messing with the wiring and just like I expected, most of the harness is trash. Several fusible links have been replaced and one of them was replaced with regular wire instead of fixing the problem which has caused some additional damage to the wiring.