Rambler American Restoration
Driver's Side Quarter & Rocker Panels
Part 13 - Rocker Rust -- Installing The Rocker Cover
Back to American Restoration Index
April 25, 2004
I've finally had some more time to work on this again and it's really coming along now. As of yesterday morning, the new section of rocker cover is mostly welded in place (I still have a bunch of plug welds left). I'm getting a little ahead of myself, however...
On my last update, I mentioned that I needed to finish up the drain thingy in the cover. That's done and I ended up using JB Weld to seal everything up.
One of the other things left to do before welding the cover on was to un-roll the bottom of the quarter panel. The part I rolled back on itself is pretty rough but as you can see below, looks okay.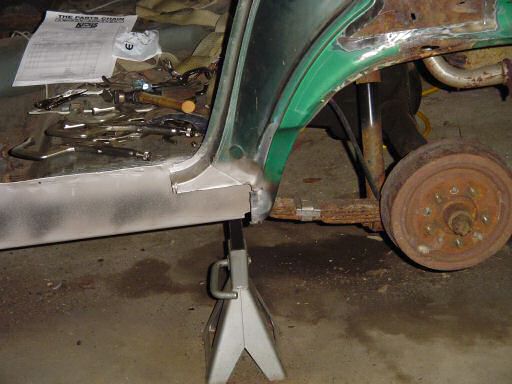 I also did a final test fit of the cover after I was finished. The gap between the rocker cover and quarter panel turned out very nice. A little bit of filler and it'll look okay. Actually, I'm probably going to replace that part of the quarter panel anyway so it's not much of a problem anyway.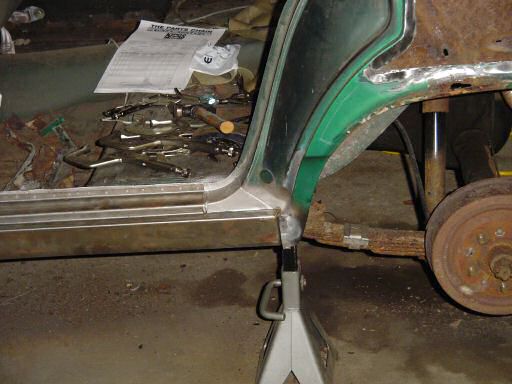 Once the last of the pre-welding things were done, I started by tacking in the front of the cover.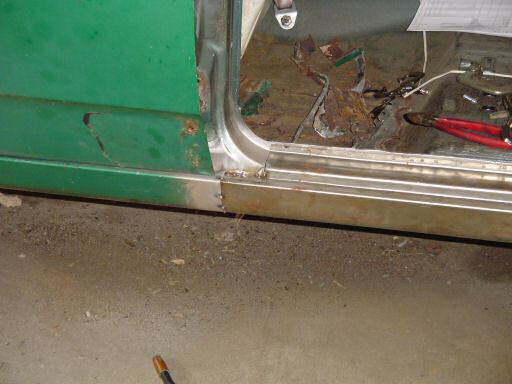 There was a slight mismatch in the shape that was likely due to all of the other cutting and fitting done to both the car and the replacement cover. What I did was tack the top part (the part that's physically under the door) and then alternate between gently prying the cover out and pushing it in as needed. For the plug welds on the bottom flange, I ended up having to hammer on both the cover and inner rocker panel to close the gaps. Then end result is that the old and new covers are at the same level.
Once the front was tacked in place, I moved on to the rear.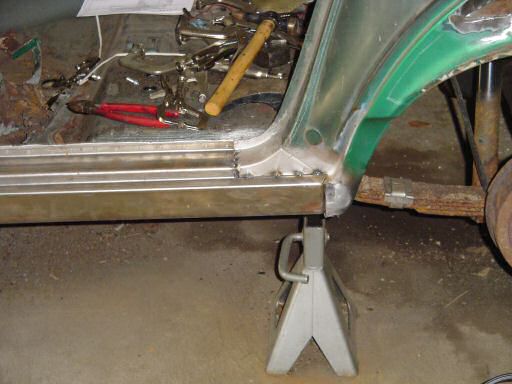 After it was tacked in, I got out the measuring tools and a straight edge and rechecked everything. All was well so I then started final welding.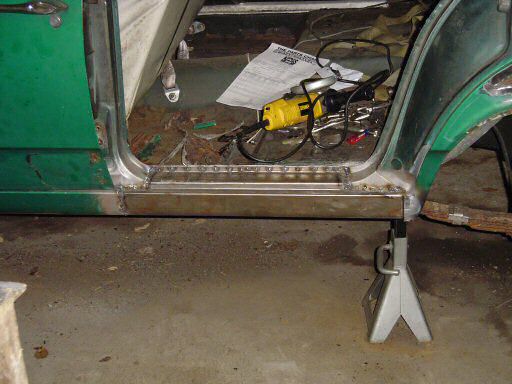 In the above picture, it looks complete but I ran out of gas for the MIG welder before I finished up the plug welds that hold the cover to the inner and outer rocker panels. My short trip to get more gas (I finally bit the bullet and bought a much larger tank so I'm not always running out) turned into stopping at my parents house since I was in the area which turned into fixing another broken deck support tab on my grandpa's Cub Cadet (nice lawn tractor, bad deck support design) which required a separate trip to the store to pick up a spool of .030" wire so I didn't get it finished this weekend.
Up Next: Part 14 - Rocker Rust -- Grinding and Welding
Last Updated 05/01/04 10:28:41 PM