Rambler American Restoration
Driver's Side Quarter & Rocker Panels
Part 18 - Rocker Rust -- Seeing Green
Back to American Restoration Index
May 28, 2004
It finally quit raining this week so I was able to paint the rocker panel. I guess I should be a little more enthused about it but I think my mood's a little tempered by the fact that I get to do a couple of jobs I'm not looking forward to. Before I get to that, here's a few pictures:
Any guesses where I painted?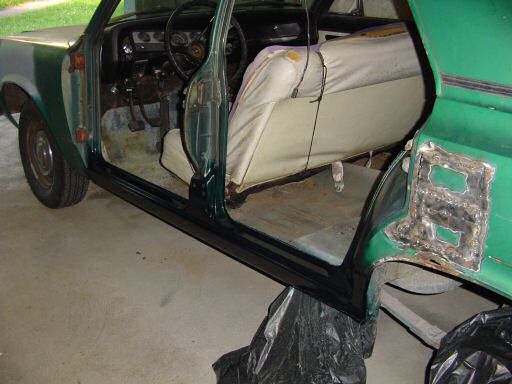 Here's a shot of the general area that I fixed.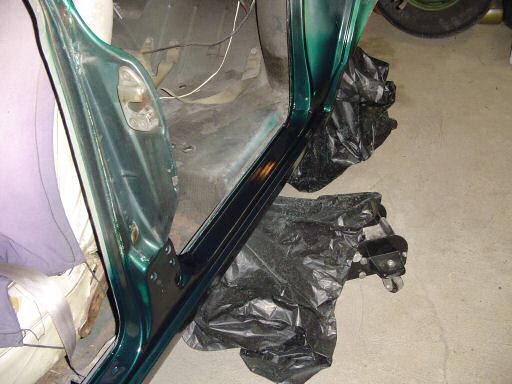 Here's the "B" pillar with all of those lovely curves. It took a bunch of sanding to get this area to turn out this nice.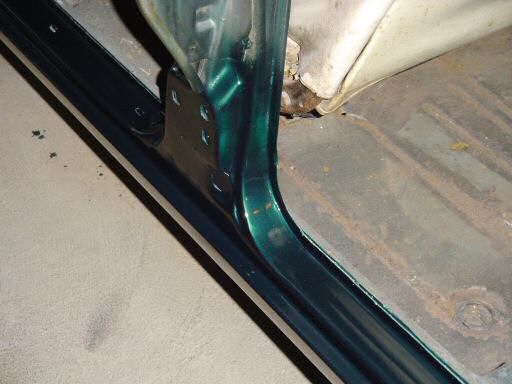 Here's the "C" pillar. I would have liked for this area to have turned out a little better but the quarter panel's in the way and quite honestly, the factory work wasn't all that great in this area either.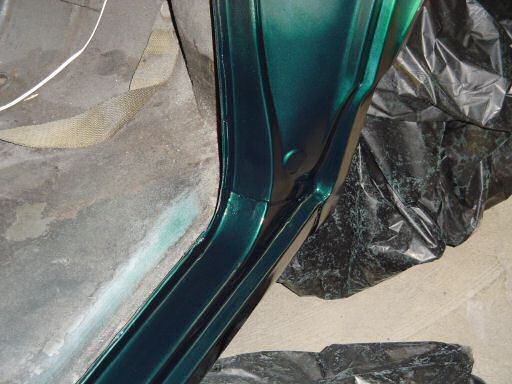 It's a little hard to see in this picture but remember how badly the part of the quarter panel was mangled where it goes over the rocker cover? It's amazing what you can do with a torch and some body filler.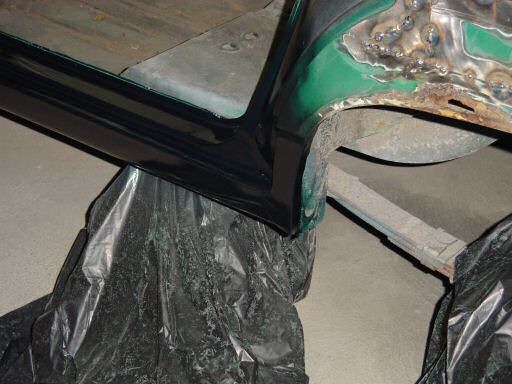 As far as the paint itself is concerned, I used DupliColor Forest Green Pearl (# T360) which is a base coat/clear coat system. I also used DupliColor primer's (sandable primer, primer/filler, and a sealer primer) since it's important to use the same manufacturer's primer and paint so you don't have compatibility issues. The only things bad I have to say about this paint is that the base coat's spray nozzle made a mess of the can (and me but that wasn't a surprise since it did the same thing when I fixed the cowl) and that since it's a lacquer, it's going to get chewed up by road trash pretty quickly.
All that's left now is to run the wiring harness back through the rocker panel (which is one of the jobs I've been dreading -- it was a pain to get out), hang the doors (I get to take the fender off to do the front door and I also get to be really careful so I don't damage the new paint), and put the dash back together.
Up Next: Part 19 - Rocker Rust -- One Step Forward, Two Steps Back
Last Updated 06/22/04 10:43:59 PM