Rambler American Restoration
Driver's Side Quarter & Rocker Panels
Part 19 - Rocker Rust -- One Step Forward, Two Steps Back
Back to American Restoration Index
June 22, 2004
Pain sucks. Between my right shoulder and some unexpected oral surgery, I haven't had much time to work on the car the past month which means I'm going to be very busy for the next month getting the car ready to go to Kenosha for the 50th Anniversary of AMC meet. Tonight, however, I finally felt up to working on the car again.
Since I'm under a fixed deadline to have the car back together, I of course started tonight by taking the driver's side fender off so I could put the stupid clip I dropped into the rocker panel almost two years ago back where it belongs. FWIW, I tied a string to the clip this time so I wouldn't have a repeat of my last attempt.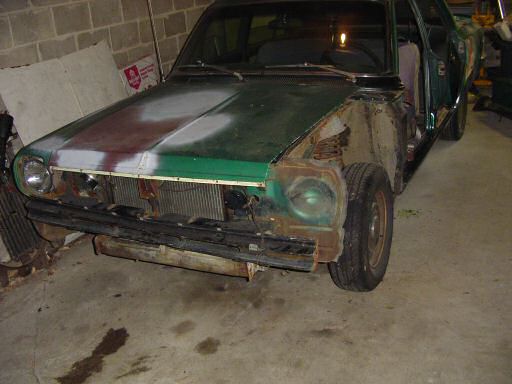 The clip, of course, is slightly broken so I gooped a little RTV on it to hold it in place while the fender's installed.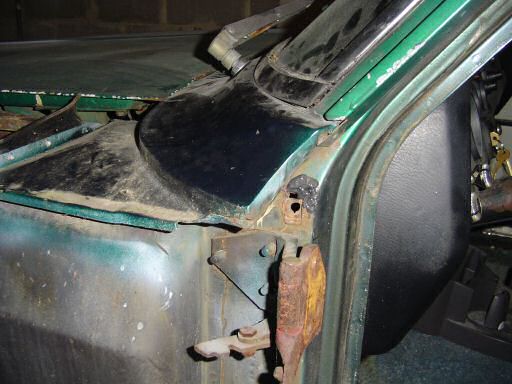 In part 17, I went on a little tirade about how not to fix a hole in the side of your car. So far, I've put about a half quart of Bondo on that area (all the sanding is what did my shoulder in). Here's what it looks like now: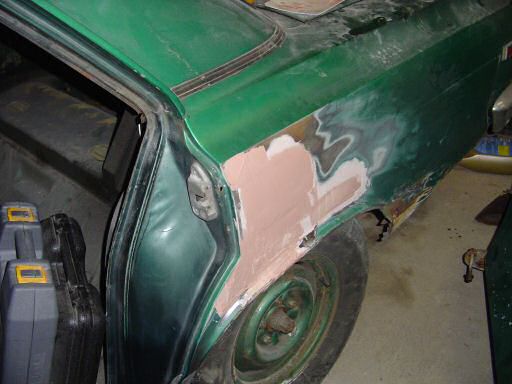 As you can see, it's starting to shape up but I know (and so should you) that it's crap work. Keep in mind that I'm only doing the repair this way to fix the hole quickly on a panel that's getting replaced and to show you what to watch out for if you hire out body work. When I put filler on the rocker panel, you could almost see through it in most places. This obviously isn't the case for this repair. I'm hoping to have this area done this weekend and I may even hang the doors if I get paint on it soon enough.
There's one other thing I want to point out about this picture. See where there's still paint around the filler? Those are low spots (actually, the filler is high). If I were to paint this now, those areas would stick out even though you can't feel the transition. You want the paint feathered back (like at the top of the repair) before you paint. A lot more sanding will take care of the low spots.
Last Updated 04/01/06 03:36:52 PM