Rambler American Restoration
Driver's Side Quarter & Rocker Panels
Part 7 - Rocker Rust -- Fitting The New Rocker Cover
Back to American Restoration Index
November 5, 2003
It's hard to believe that two months have passed since the last time I worked on the car but its funny how things like a brother that bought an ex-farm truck 1989 GMC S-15 with 219,000 miles that broke down and needed a bunch of "fixed" things properly repaired sneak up on you. Anyway...
The two things I've done since the last update are to fabricate the outer rocker panel (this is the part you don't see) and to fit the replacement cover. I'm not sure if the part I fabricated will work yet or not but as you can see from the picture below, the cover itself worked out great. The cover I used is for a two door but the only real problem areas are around the "B" pillar where the factory rocker cover kicks up and near the rear of the door where I made a mistake trimming things to fit.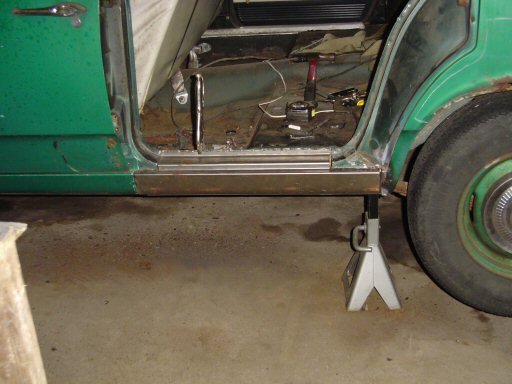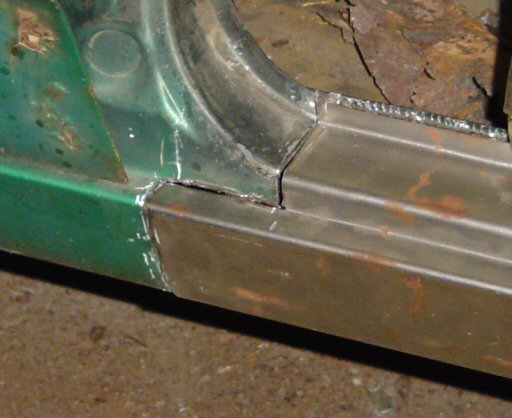 Here's what I need to deal with around the "B" pillar. It's a little hard to see but the replacement rocker needs bent up about 1/8" to match the factory contours. It's real tempting to just fill this in and be done with it but this part is going to be visible and the gap is a little on the big side for filler. I really don't want to worry about filler popping off in this area.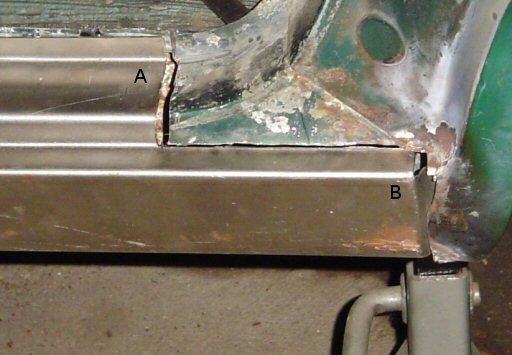 Here's the two big mistakes I've made with the cover replacement so far. Mistake A was from trimming too much from the car and replacement cover (I would have ended up with a gap here anyway, but it would have been half this size) which left me with a 1/4" gap. I'll take care of this by welding a small piece of steel to the car, installing the cover, and building the rest of the gap up with weld. Mistake B was from too much heat and prying getting the old cover off. I wasn't going to do anything with this part of the quarter panel but I think I'm going to cut this part off of the car and using a section from the replacement quarter panel. I'll also need to fill in a few big gaps in this area but the good news is that it doesn't need to be very pretty. The factory used a very large amount of filler rod when this area was brazed together and I plan to re-braze this joint when I'm done.
Up next: Part 8 - Rocker Rust -- Outer Rocker Panel, Take 2
Last Updated 02/15/04 05:03:43 PM