Matt's Old Cars.com
Fiddling with Rambler's since 1995
1967 Rambler American
Here's the latest addition to my stable: A 1967 Rambler American station wagon.
Here's the vital stats
1967 Rambler American 440 station wagon
Paint: Yuma Tan Metallic and Frost White
Interior: Tan Vinylair vinyl bench seats
Engine: 199cid six
Transmission: Automatic, column shift
41,900 original miles
General description:
Overall, the car's in nice condition. It looks great from about 20 feet but once you get closer than that, you can see it needs a few things. The big things it needs are paint (it's currently wearing the original paint), some quarter panel work on the passenger side behind the wheel and on the driver's side near the rocker panel.
Here are some pictures I took of the car the day it came home.
Learn how fixing the brakes on this car went from simple to sucky with the turn of a wrench.
Take a look at a good example of excessive valve lash (updated September 18th).
Here are some pictures of various date coded parts under the hood (updated March 25, 2008).
Here are a few pictures I took after cleaning up the engine compartment.
Here are some pictures of factory correct engine hardware.
The engine came back from the machine shop today (September 30, 2005). Here's the source of the engine noise:

I have actually had the car back on the road and driven it. The rebuilt engine went back in on October 8th, 2005 and I took it for it's maiden voyage on the 16th. Here's a picture of the rebuilt engine back in the car: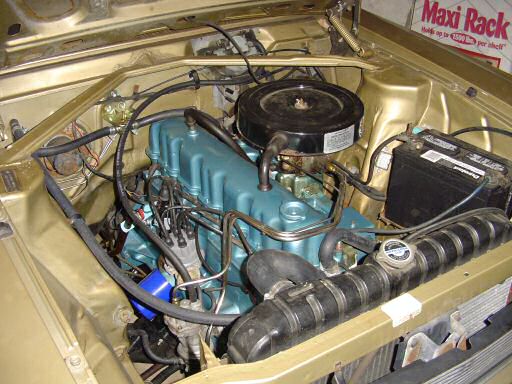 I managed to put about 160 miles on the car over the next three days and then the fuel system clogged up so the gas tank is out being cleaned and sealed now. Since the gas tank's out, I decided to go ahead and fix the passenger side quarter panel. You can read more about that in the Rambler American Restoration section.