Matt's Old Cars.com
Fiddling with Rambler's since 1995
About My 1978 El Camino
Here are some picture of my 1978 El Camino. I haven't really done much with it yet other than some basic repairs but it really doesn't need much other than a new paint job and the interior redone. In case you're wondering, this is not a factory color (the factory color was silver) and it is also not black. This is a very dark metallic gray. The paint is 1988 GM code 85.
Some of you may be wondering why I've put up this page about my El Camino when the rest of the site is Rambler related. There is, of course, a story behind this. This particular El Camino was purchased new by my grandpa in the fall of 1978. He's always taken very good care of it (as you can tell from the pictures) and I've always admired it and he had promised the car to me when he was ready to let go of it.
Late last year (end of 2000), he decided that the time had come, so for Christmas, I became the second owner of this fine trucklet. To say I was excited is the understatement of the century.
Fortunately, it hasn't really needed much work done to it and the vast majority of what I've done is maintenance type of stuff (new brake rotors, replacement of belts and hoses, etc..). The biggest problem it has mechanically is the rear springs (original) and shocks need replaced and it has a bad ball joint.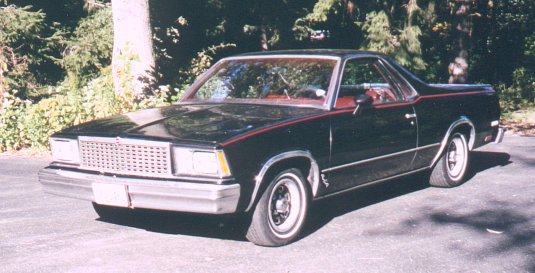 As you can see from this picture, the rear end is sitting pretty low (the top of the tire is up in the wheel well about 2 inches). The white mark behind the front wheel is something on my scanner and not a problem with the paint on the car.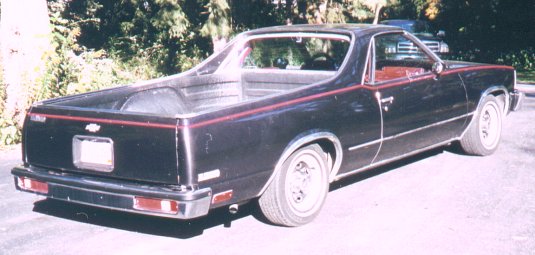 Here you can see the Rhino Liner in the bed. Since this was actually used to haul stuff, the bed saw its fair share of abuse but the Rhino Liner hides most of it. You can also see just how badly the rear is sagging.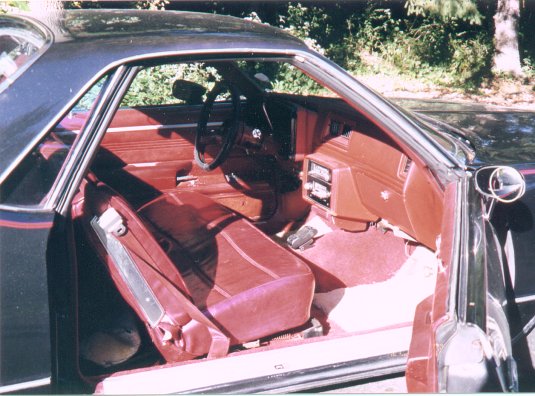 Here's the interior. The front seat was recovered in the late 1980's and the pattern is wrong. That will be corrected when the interior is redone (I'm not a total resto-nut, when this is redone, I'm switching to cloth but it will be a factory pattern). The rest of the interior is original (the light spot under the radio on the passenger side is where one of my cousins would kick the dash when he rode with grandpa).

I know there's not much excitement under the hood of a late 1970's car but I swear there's a 305ci V8 under that mess of hoses. Most of the visible hoses are part of the A/C system. Since this is classified as a light truck, the emission control system is very simple compared to other cars of the same vintage.