Where's The Car Now?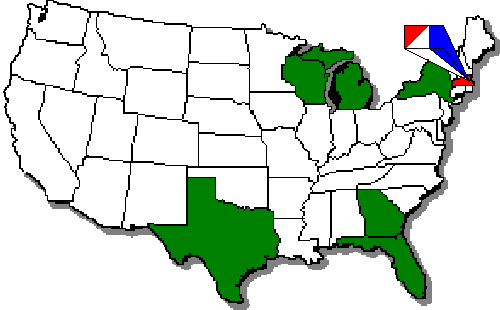 This map shows where the AMX has been and where it is currently located.
States in

red

indicated where the car is currently located.
States in

green

indicate where the car has been.
First stop: West Newbury, MA
What was done? Rebuild complete brake system less master cylinder and power brake booster.
Second stop: Jacksonville, FL
What was done? The engine was torn down for an inspection and found to be in need of a minor rebuild. Front end body work was performed by Ed Douglas. Action Brass did powder coating on various parts. Click here for the full report.

Third stop: Grayson, Georgia (near Atlanta)
What was done? The front suspension will be detailed and rebuilt. Needed engine and clutch work will be done to return the car to running condition. There is also some brake system work (replace master cylinder and power brake booster) that will be done at this stop. The first work session happened on Sunday, November 12. A second work session happened on December 10th. The engine is also being rebuilt at this stop.
Fourth stop: San Antonio, Texas. The car was at the 2001 AMO Nationals in Houston.
What was done? Have rebuilt engine running and properly broken in, repair cooling system, purchase U-joints and install driveshaft, redo brakes, complete clutch linkage, clean out fuel system, mounting and balancing of rally wheels and tires. Installation of re-chromed bumpers and restored grille.
Fifth stop: Racine, Wisconsin. The car was at the 2002 Kenosha Transportation Homecoming in Kenosha, Wisconsin prior to this stop.
What was done? Installation of new rear springs, fix electrical problems, repair/replace quarter panels.
Sixth Stop: Auburn Hills, MI.
What was done? Finish prepping car for paint.
While not an official stop, the Charity AMX was stored temporarily in New York as it was moved from Auburn Hills, MI to Boston, MA.
Seventh Stop: East Bridgewater, MA (New England Classic AMX Club)
What's being done? Paint car, restore interior, finish car for auction.
If you'd like to help with the car at this stop, please contact Tom Benvie at 508-378-1423.
Last Updated: 09/09/2008