First Report of Work Done - East Bridgewater Stop
September 6, 2008
Today we had our first work party for the car, and we actually came up with a name. The car is now named Hanna, because the remnants of Hurricane Hanna is still here as I write this, yet a number of guys came out today in some of the heaviest rain we have ever had to work on this car (I have lived in this house for 22 years, and it was so hard the rain came under the garage door and soaked the floor-never happened before). So Hanna it is-and the Hurricane analogy is not lost on us either.
An update on the parts-sadly, it is not going well. I hope people are not overwhelmed at the list of parts and feel they canít help because they do not have a lot of the parts we need-even if you have one part, we could use it. Many of these parts are not rare or expensive, and I know they are out there. For instance, the door pinch weld welting, or some of the interior trim, etc. We will take only one item if your have it. I set up a PayPal account and asked if you could all donate just $10. Sadly, only 4 people have sent money to this account (and thank you who did, and they all gave more than $10!). We really need you help. You may be in a club and want to help-what if you held a collection and bought just one tire for instance-and it doesnít have to be a car club either. And the parts donít have to be mint or NOS. We really need a set of wheels-we will clean and restore them if we could get them. Please, I know you have stuff you may need in the future-we need it now, and it goes to a great cause. You have all read a number of resto posts-some by me-and they were all free. Well, your tuition is due! Isnít this info worth $10? Thank you in advance.
Here is an update of what we have accomplished in the past week:
The web address www.charityamx.com now points directly to Mattís website. This will be much easier for people to remember when we ask for donations and tell them to go to the web page. (And how about a giant thanks to Matt who has kept this site updated the last 8 years without any complaining at all. THANK YOU MATT!)
We have registered the project as a non-profit doing business as Charity AMX. We can now offer a tax number for businesses that donate parts or services.
Our restored steering wheel-complete with new horn switch-is on the way.
Mike Bursaw will be sending the reproduction side exhaust to us as well.
Mark Shuford has committed a number of repro parts to help the project.
Mike at AMXMGS.com has committed a number of needed repro parts.
Joe Roberts, a well known used parts vendor with tons of info on the cars-has sent a large box of needed parts.
Joe Sousa donated a ton of used parts at our AMC Show last week.
We may have a local glass vendor donate a new windshield.
A local shop offered to powder coat all our parts for free.
A Forum member is working on getting a repro set of tires.
We have contacted Hurst, ACC, and Legendary about donating items and services for the car. So far the reception has been very favorable.
Some Forum members have stated they would donate engine paint, fan shroud, air cleaner, and services to redo the wiper assy.
Today (September 6, 2008) we had our first work party where we pretty much stripped the car to a shell. We stopped early as Hanna was getting worse and it was time to leave.
Last night (September 5, 2008) we trailered the car to a huge cruise night. When it drove off the trailer at the end it was the last time it would move under it's own power until it is done. An interesting thing happened after the show. We got a lot of comments on the car and passed out a lot of flyers with info on the car. After the show Rick was at a local restaurant with his wife and the guy who sponsors the show came over and talked to him about the car. When he found out it was a Charity car he asked us to please bring it back next week. Ends up the cruise night proceeds goes to Children's Hospital every year, and he couldn't believe we were working for the same charity! Here are some pictures of the car at last night's cruise, and the last pictures of the car assembled and driving under it's own power.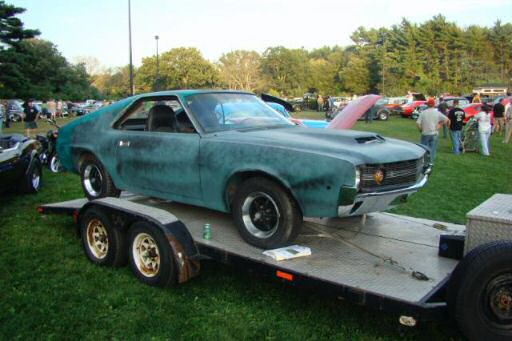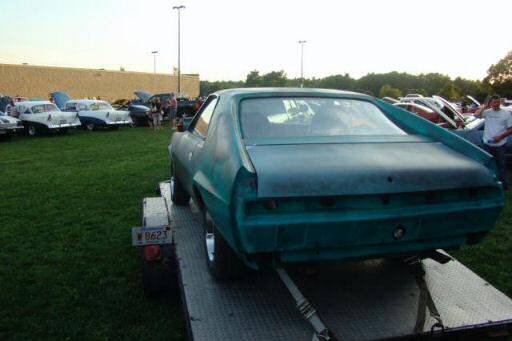 Last Updated: 09/09/2008